We just got back from a rather challenging trip back to Penang. Our initial plan was to leave early morning but hArith started vomitting since the night before, each time he drank his milk or ate anything. Went to clinic first then only proceed with our journey.
Oh btw, after 4 times traveling with the kids (twice to penang, once ipoh and once Bali, i've figured out a way to pack my kids' clothing.  Do u hv the same problem like i did before? You pack everything in the big suitcase..and when u reach ur destination…all the clothing tunggang langgang when u tried pulling one t-shirt out. Or you wanna search for one particular clothing and ended up with a mess in the suitcase, other clothes were left half folded. Well, i always encounter this problem…thus i started packing their clothing accodring to days, pack it in individual clear plastic bag like this…
here's a closer look of it,
yup, i label it accoding to date and day / night. So each time i wanna take their bath, i'll just pick one plastic bag..so no mess in the bag. And oh, i'll have another plastic bag labelled "extra clothing"
Anyway, about the trip…my kids had problem getting along with the relatives over there. Sume jadi anti-social. We had to carry them all the time, pApa said like as though we have a handbag to carry with us. And also i think it was because everyone came to them wanting to carry them, so trus tekejut jadi takut. Like why is everyone coming after me?? haha. Especially when we want to eat / pray, if we asked someone to help jaga kn, they will carry them. Lagi lar phobia…asal lar sume org nk dukung aku, coz my kids kn suke meng-explore tempat. So i guess next time nk suruh org jaga kn..i takleh gune pekataan "jaga" i kena gune pekataan " tengokkn"…so let the kids go wild while someone look upon them to avoid any "accidents"
So that night, we went for my friend's akad (that's the main reason balik penang…fren's wedding). Event started late..went upstairs to see the bride and had to take numbers bile nk take photo with the bride…
Nak amiq gmbar bride pun agak susah…one hand holding the camera while the other hand carrying uZAir..so nk amiq gmbar, celah2 org je lah..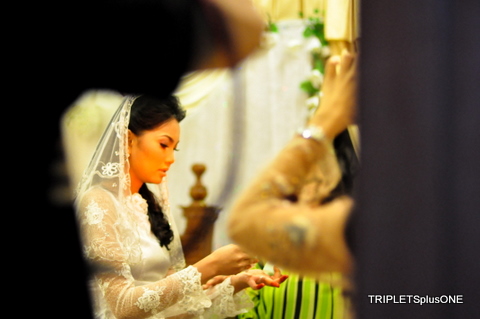 Then ni nk queue up to take photo with the bride…waiting for my turn
It was getting late..my kids were hungry, so kami ni muka tak malu gi masuk dapur cari food. buat macam rumah sendiri bukak rice pot and all. My kids must be really hungry, rice tak cukup. En syauQi lak jadi muka tak malu pegi depan mintaq food dr catereer..hihi
ni lepak kt luar dapur smbil makan
we lepak kt dapur belakang, and when the akad started, i couldnt get much photos since i was still carrying uZAir n it was a bit crowded.
ended up watching the ceremony vis tv screen…
It was getting late, so again we buat cam rumah sendiri…went up to put the kids to sleep so we could take turn to have our dinner
Left the hse at almost 1130, managed to take photos with the bride n groom but uZAir refused to look at the camera…
 He was too curious y is mOmmy not as tall as the bride n groom kot..and last2 all 3 of us lak tg kt die…
to be continued…