been wanting to put this up during Ramadhan but kept on forgetting. Nway, somehow rather Ramadhan is always synonim with Bubur Lambuk aight, especially bubur lambuk Kg Pandan..but believe it or not i never tried it my entire life…i dont quite like those kind of texture food..cam geli tekak mkn mende lembik2.
However, our neighbour gave us to break fast…and my 3 lil rascals just luv it. They ate it non stop…and we got our period of eating with peace. They really enjoyed it.
The bubur lambuk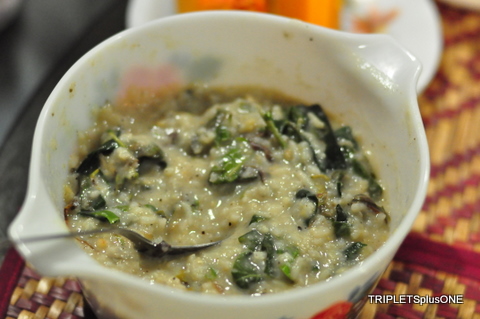 The 3 rascals enjoying it…
Oh btw, it has been almost 2 weeks im trying the Essentials by Usana for my inflamation of bone. Of coz i cant expect it to cure immediately but it does show sign of improvement.  Previously I had to take my Arcoxia (it kind of act as a pain killer) more often, now for the past 2 weeks…i only took it once to help reduce the pain.
Although it helps reduce my pain, I always try not to consume Arcoxia often since it has its side effects
It has been almost 2 weeks im on the supplement, and it shows sign of improvement. Hoping that in a month time (or perhaps sooner) my bone will be back to normal and all ready for a round of Touch Rugby!
The supplements is not only for those with health condition but can also be used for maintainence of health =)
And during my own search of more details of Usana…i found this. The lady pretty much explain details of Usana.
You may email me if u have any enquiries regarding the supplement, munirahpunye@yahoo.com