Hola everyone! Still in festive mood? WAh pasni sure every weekend busy pegi open houses aight.
So how was our Raya? While everyone else went for Solat Raya, i was busy getting the 3 lil rascals ready. We actually had problem getting baju melayu for uZAir, his head can't get in the 1 year old baju. Had to get the 2 years old baju…he ended up using hArith's baju wiz all button infront.
Here's me just after putting on the elder two's baju raya
all 3 ready for rAya =)
When everyone came back from masjid, we did some photo session.
here's photo with the family but my first bro tak smpai lagi
Then after breakfast with ketupat, lemang n rendang..headed to my aunties' house (on my mom's side)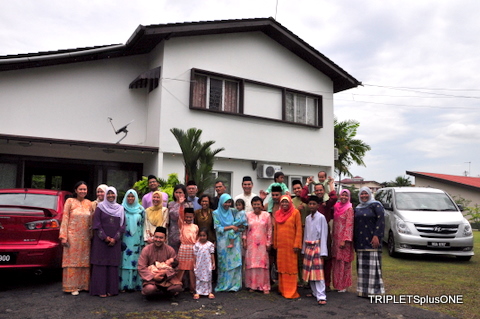 Then off we went to syauQi's parents' house pulak
Then, tgh org sibuk bersalam salaman, athirAh lak sibuk panjat2
and look at this…isn't he cheeky?
It was a last minute plan to balik kampung. We decided to follow my parents and siblings back to pontian (my dad's kampung). It was in fact first time for the kids. Left KL at about 6 plus and reached there at about 10pm. First time all complete family members tido "bergelimpangan" together
 My kids were on their best behaviour. Elder two didn't wake up in the middle of the night while uZAir woke up only once.
In the morning, they were hAppily playing at my grandpa's compund. They found penyapu…hAppy betul. athirAh found it first, then berebut with hArith
metrosexual kn my grandpa..umah warna pink wo! =)
Anyway…here's my grandpa. He is already 84 years old
And here's photo of 4 generation. My grandpa, my dad (eldest son), my brother (eldest cucu), and hArith (eldest cicit)
owh by the time we arrived, it was already dark, so we were looking out for the tyre which served as the landmark to the turnoff into our grandpa's home. sedar2 dah sampai to the end of the road. so we waited for my dad to catchup and wait for us at the simpang. imagine our surprise, when the tyre was no longer there and the papan which has lorong hj hashim has now turned into a nice, proper, official looking board announcing Lorong Hj Badri instead. guess my grandpa has really left his mark in the world! tadaaaaaaa~
Yup. next morning, we were so excited to take photo of the lorong =)
The proud cucus and cicit =D…. "Jemput lah masuk"
Nway, we went back for only a night. Left kampung at about 4pm. My kids were restless in their car seat since they spend too much of it within 24 hours. athirAh as usual, managed to get out from her seat despite being buckle up. I ended up placing her comforter on the "floor" and off she went into lala land from Melaka until we reaached KL. That's the best part of having a family car…space is not a problem, i know others of my age would want to drive sports car…but i'm luving every bits of this spacious car =) 
(it was possible to place my leg down but i was breastfeeding..that's why i seated cross leg….)