This entry will have lots of photos of elder 2's school.
Since few enquire about the school i decided to talk a lil bit on it.
Firstly, they are only 2 years old, and i am not working, so why is there a need to send them to school?
Coz my kids didn't show any sign of early speech. Yes no doubt, some kids speak later than others but i was afraid their delay in speech were due to their prematurity. So wanted to exposed them to proper educational to monitor any improvement in their speech.
So what make me choose this school than any other? Here are few of my criteria in choosing school
FUN
Not class oriented
I am not keen with big commercialize kindie like Tadika Diyana and such coz considering my kids born premature, lung aren't that strong, thus prone to getting flu and such. So the bigger the school = more kids= bigger chances of getting flu or caugh or any other virus from other kids
I don't expect my kids to read but  would love them to have educational lessons, hence i wasn't looking into day care / taska / nursery. Coz if i were to send them to day care, might as well i take care of them at home.
School that goes according to their pace, individual pace
nearby (of coz..hihi)
It so happen that i knew they have one montessori kindie in my neighbourhood. I myself went tru montessori education system and i'm very happy with it. I was send to another kindie before and i always create reason not to go to school..yup semenjang sakit perut. When my mom transfered me to the new kindie (using the montessori system) i look fwd to go to school everyday. I luv it.
Seven months ago, husband and I buckled up the elder two and went searching for suitable school for them. We went to various school and most of it do not accept 2 years coz they say they are not daycare / nursery. And I'm so happy this school accept them, coz this was the exact education system i wanted for my kids. Upon entering the school, it was all dejavu, the materials used were all so familiar to me.
Everything was placed in an open shelves, where the kids were given freedom to choose what materials they want to work on.
When we first enter the skool, we saw the stairs without any gate or such. Both syauQi and i was asking each other, macam mane cikgu nak kejar our kids, sure diorang naik turun tangga. Yup, tat's part of the montessori system…they dont put barriers preventing the kids. they let the kids explore what they wanna do. While looking at the school, we were so impressed looking how discpline they kids were…all listening to instructions, no one run up and down the stairs despite no gates, no one simply take the materials and all. When it times for lesson, they will take their own mat, choose a material they want to work on, and do it on their own mat. Upon finishing, they will place it back, and take another new material they wanna work on.
We left the school after the short visit. In the car, both of us were talking to each other "wuish macam mane nak handle athirAh n hArith, kang sume mende capai"
as i mentioned in previous entry, hArith attended the school alone initially coz athirAh had problem adjusting. if athirAh nangis, hArith will joined. once hArith adapted well, we send athirAh.
Only after few days attending school, we could see progress in hArith. After eating..he will straight go to the sink, wash his hand and ask for towel, (and he as only 23 months back then)
When anything spill…he will be running to the tissue and wipe the floor. When athirAh or uZAir cry, he will be running for the tissue and pass it to them. He will ensure everything in the proper place. We were so impressed.
After a month of so, hArith started to developed his speech. We were hAppy of coz! His hand coordination skill improve tremedously too. He could eat soup all by himself, he could pour himself a glass of water too. All this he learned at the "practical life skill" section, where they learn scooping, pouring, putting beads into the rope and such.
Here's the "practical life skill" section,
(above is picture of hArith during his first few weeks he started kindie)
below is the "wet" area where the learn, scooping, pouring and sponging
well, the materials may look simple but each and every material has purpose. for instance this…
at first i thought it is just a matter of matching it according to the right hole
but in actual fact, this material actually help them to hold pencil in future. when a child does this material, the teacher will observe how the child grip the cylinder knob, weather he / she uses 3 fingers or all his/ her fingers like this
yup, the above is not the correct way, if by doing so a child will hold the pencil cam genggam
so, basically every materials have its on reason and benefit.
oh they also have materials to teach the kids how to put on buttons and tie ribbon, of coz my kids not able to do so YET
more photos of the skool…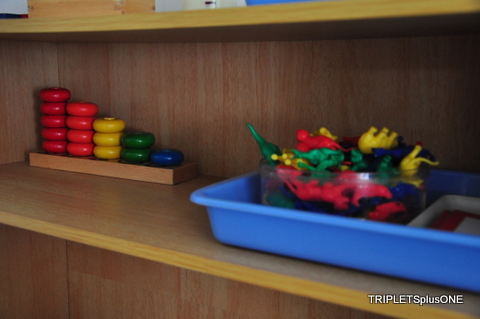 Oh, one thing i forgot to mentioned. morning snacks n lunch are provided, their meals change daily, there are days they have pasta, mee, rice, sandwiches and everyday they will eat fruits too. dont worry if they have big appetite, they are allowed to have more than just 1 serving..hArith would have 2 serving most of the time…hihi. and yes, they will eat by themselve, now hArith can handle fork and spoon. i once saw him eating fried rice with a bowl of soup by his side….he look so much like an adult, hihi
anyone wish to know where exactly the school is located, dont hesitate to email me at munirahpunye@yahoo.com
On another note, yayyyy i earned 100usd this week. The past 4 weeks, i've been earning USD40 weekly, this week alhamdullillah, dapat 100usd. I'm happy that besides improving my health and leg condition, i am also earning money, interested?
te