I always envy people who have the time to be consistent in applying their beauty regime. With 4 small kids, having the chance to shower without anyone knocking the door calling for me is considered a luxury. Although at times there was no knocking, I still have to cut short my shower time cause I can hear my elder 2 giggle about. Whenever both of them happily giggle away, it surely means they are up to their mischievous act. Thus I can never take my own sweet time taking my shower. Sadly, despite having a dry skin, I never have the chance to apply lotion n other beauty regime for my skin.
When I heard there's new water softener in the market, I was keen to know more about it. It is from the water itself, thus I need not apply any other additional lotion to my skin. The water softener is by Coway – the leading home-wellness appliances manufacturer from Korea.
Just like swimming pool, our tap water contains chlorine too. The residual chlorine in tap water causes skin dryness. Besides that, it can also accelerate hair loss and skin aging because it destroys vitamins in our skin. The Coway Spa Water Softener is able to do exactly that – transform tap water in our homes to soft water making it a healthier option for our bodies while giving us smoother softer skin. This is just ideal for me, I need not do any additional steps (i.e. applying lotion) for a smoother and moisturize skin.
I guess we never place importance in the water we shower as much as we place importance in the water we drink. Hardly you hear people drink water directly from the tap water. We either boil it or use the water filter. We should be doing the same to our skin. During my university years, I had a Thailand course mate, Nuraya Ramsamkee. She is so beautiful masyaAlah. Her skin is flawless No make-up yet it was simply flawless. Unfortunately she is rather quiet, I didn't have the opportunity to ask her beauty secrets.
However one of the terms, our rooms happened to be side by side. Believe it or not, she actually boils the water every time she takes shower! I thought she did that because se wanted to bathe with warm water. But one day, I saw her boil the water but didn't immediately take her bath. By the time she bathes, the water was already cold. I guess now I know the reason, she boils the water to removes contaminant particles. Hence the superb flawless skin
Coway Spa Water Softener removes contaminant particles to ensure our skin absorbs only clean water with several layers of protection. The composite filters remove harmful substances such as chlorine and floating substances in tap water to minimize irritation to skin. It also has cation ion exchange resin for removal of substances causing water hardness.
This slim and compact product benefits has been proved by a 4 month test done by Woongjin Coway Cosmetics R&D Center, SMCTC (A clinical test organization) & KATRI (Korea Apparel Testing & Research Institute)
Basically it is a 2 in 1 product for me, it helps increase my skin's moisture level while taking my shower, without the need of applying other product after shower. It is said to increase skin's moisture level up to 69%, hence preventing loss of skin moisture and reduces skin friction up to 20%. Besides or skin, it also soften our hair and scalp; helps those with dandruff problem. Everyone knows the effect of chlorine, thus this Coway Spa Water Softener does exactly that; reduces chlorine effects.
The product is easy to use and maintain. They also have rental unit available for only RM70 a month, and you will be entitled free product maintenance every 2 months for 5 years. If you would like to purchase it, the price is RM1900 with free 1 year maintenance (for every 2 months). Or if you wish to give it a try, they currently having a 14 days free trial for the public to try out the Spa Water Softener (1,000 units) in the comfort of their homes. Absolutely free & no hidden charge. You may call them at 1800-888-111 or logon to www.coway.com.my
my boy enjoying his shower 😀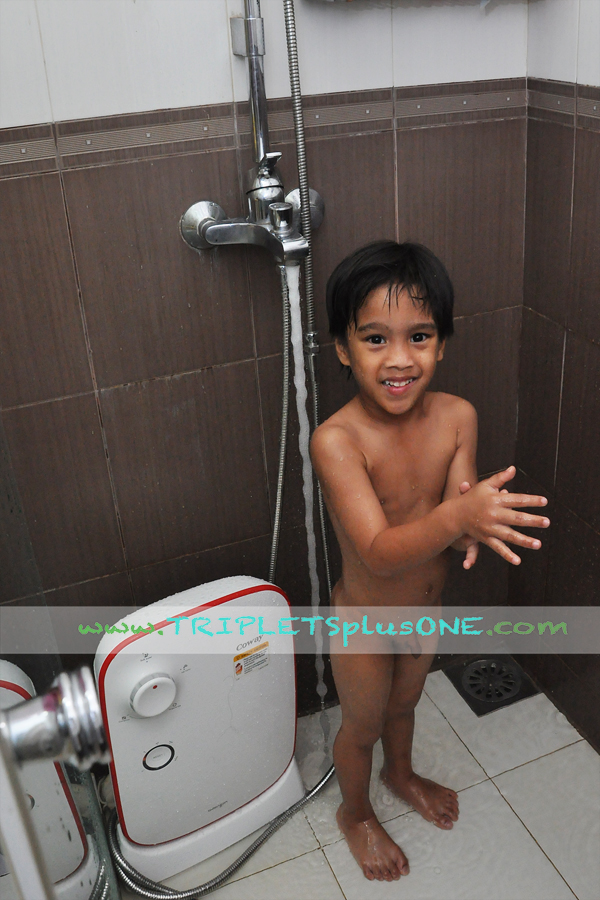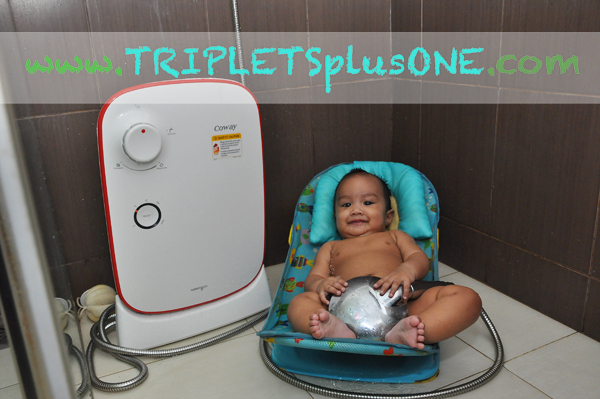 lil' uWais enjoying his bath time