I dont usually attend advertorial event unless it is relevant to me. And this time around it was on diapers,baby massage and healthy living.Just the right combination that i need :). Event was held at FitFor2 so things could not be any better. I could park my elder 2 at the Kidzports (thanks to my sister for accompany them). Uzair was still asleep when we sneaked out. Upon arrival had a chat with Debbie Lee, the instructor. She asked about my pregnancy background and the minute she heard i had 4 kids age 4 years and below she said she need to do an abdomen check on me to ensure it is not apart. If it is apart, i shouldnt be doing crunches and there are certain exercise to get my abdomen back in position. I was a lil panic of coz, alhamdulillah all is fine with my abdomen.
Debbie was talking about healthy living in which it hit me…gosh i havent been doing any form of exercise for quite sometime. or can i consider taking care of 4 kids 24/7 as exercise? We did the exercise with the gym ball. And the best part of it is, all exercise involved the baby.
even when the baby is asleep, i was able to join the exercise,
we were free to take a break at anytime to breastfeed our babies. uwais sound asleep, i then continue doing the other routines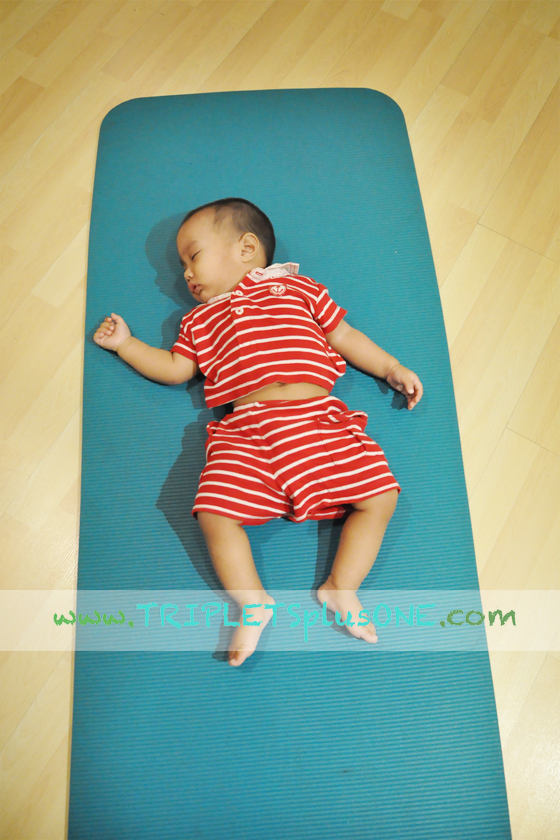 or if the kids get restless, they were free to move about 🙂
after the exercise session, we had a lady to teach us on baby massage. Uwais were already asleep thus i couldnt do any massage on him but i surely took the opportunity to learn. She even taught us how to massage for babies / toddlers / kids who has constipation problem. my girl athirah somehow has problem doing the number 2 business. I learn from the lady, did it on athirAh and wallaa she even poo in her sleep!!! In fact if u have group of mommies with babies wish to learn baby massage, you can get this lady to come over to your house.
After the 2 session, we were given snacks. Oh honestly i always look forward for such events because of the yummy food the serve. And not only it is yummy, it is also healthy food!
Sorry i was too busy getting the food on my plate that i only remembered to take photos after i have done eating, oppss.
I really should give a serious thought on attending the classes by FitFor2 at Bangsar Village 2. I can bring Uwais along, so no reason not to go. The place is really kids friendly, they have a section of toys for kids, a nice comfy sofa to breastfeed and changing table for the babies. And dont worry if you forgot to bring diapers along coz they do provide Huggies diapers for free. Yes you heard me right, for free 🙂