Oh please, dont get bored yet,  i have few more things to mentioned about the party the other day.
STORY 1:
Of coz i was happy to meet up with the other bloggers for the first time. And happy that we get along well.
But we were all very happy to meet this lil gal, Husna Athirah. Wanna know why? Coz she was "wardmate" of hArith and athirAh. Well, is there such word, wardmate? She was also born premature at 26 weekeer, but few weeks earlier than my twins. So her mom was my inspiration. We meet up almost everyday during our visits to see our children. And since Husna was born few weeks earlier, so her mom went through most of the thing before i had to. For example, the eye laser. I was so afraid when my kids need to go through the eye laser for the ROP, but since Husna went through hers earlier…her mom comfort me and shared with me all the info she had. It was really comforting.
And we never met ever since our children got discharged from the hospital. Oh we were so happy to see her at the party, big and healthy =)
A picture of all three premature, born less than 1kg and now big and healthy, al-hamdulillah
STORY 2:
And to those who came early…u might notice this from my neighbour's house
Please, dont get the wrong picture…im not a cruel neighbour who didn't invite them and left them all three looking out of window eyeing on the party.
They were of coz invited! but their parents had guests in the house. So they had to wait for their parents to come over. And yes, they did come over and had lotsa fun too!
Saya bukan jiran yg kejam dan tak berhati perut tau!
STORY 3:
my sis-in-law gave a gift of customize choc…it looks soo cute smpai tak smpai hati to eat it.
 STORY 4:
After party was over, we realised we didnt do two things:
1. took out the disposable bib and placed it at the kiddies' zone
2. We completely forgotten about this!!! (although constant reminder from syauQi and me about it…aiyooo)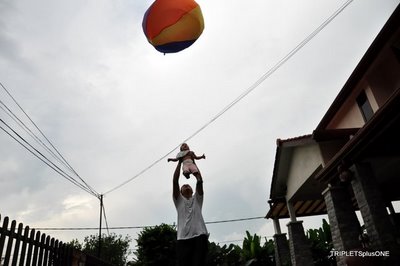 oh, imagine how much fun it would be if we had this giant ball!