Remember this face of hArith?
That was the face when he saw elephants.
And this was his face
when he saw this,
we brought the kids to see the dolphins n sealions show at sunway pyramid. All this while, fish can always fit the plate at home and suddenly seeing a real dolphin, that really did amaze my kids.
yg ni athirAh berangan konon2 she was the want giving instruction to the dolphin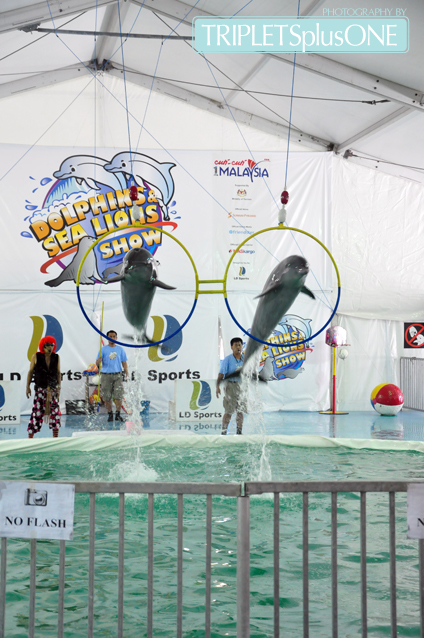 what amazed us most is that tthe sea lion n dolphins could solve mathematics. the trainer will get the public to write mathematic equation
and the dolphin n sea lion will answer by pressing the honk / ring the bell
the sea lion was even cuter, the minute he finishes pressing the bell, he will clap his hand even before the public clap.
And for the fees of RM20, you'll get a boat ride with the dolphins
and RM15 for a kiss
but because we were in a big group..to enable all to touch the dolphin, we had a group photo like this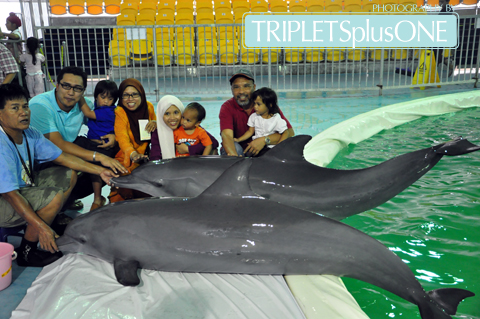 BUT
it wasnt enough for me to just touch the dolphins. so i actuallyaid another RM15 for this =D
(yes, abaikan my senget tudung. so excited to take photo smpai lupe nak betulkn my scarf. dh tgk blk gmbar baru cam…aiyoo tudungku!)
and the photos were given to us like this
How was it?
considering tat was the only chance i get to touch the dolphin here in Malaysia, i would say its a good one. Bile lagi nak get such opportunity. And the show wasn't dissapointing, unlike the one i went to zoo negara the other day. it was better than zoo negara (based on my personal experience, that is). we went weekdays, so there wasnt much crowd.
How much?
It is RM40 for this with Mykad. But they have package for family of four for RM120. Children below 3 years are free.
Time?
11:30am, 3:30pm, 6:30pm and 8:30pm.
(weekends they have extra session at 2pm) 
Where?
Next to Sunway Pyramid. Go to the entrance of ground floor of the new wing, it is just outside on the left
*the host cam abit annoying skit..haha